News
Stay tuned for the latest news about Steve Jarman and the issues that matter to you.
Wednesday, October 10, 2018 4:05 PM
Steve's Great-Niece Helps Him Throw Candy at the Purcell Homecoming Parade
Steve's great-niece, Preslea, helps him throw candy at the Purcell homecoming parade. - Friday, October 6th.
---
Monday, September 24, 2018 10:31 AM
Pauls Valley Regional Medical Center Fundraiser
Steve serves at Pauls Valley Regional Medical Center's barbeque fundraiser on Sunday, September 23, 2018.
---
Sunday, September 23, 2018 8:27 PM
Steve Meets With Senator Elizabeth Warren
Steve met with Massachusetts Senator Elizabeth Warren on Saturday, September 22, 2018, at a rally for educators who are candidates at Northwest Classen High School.
---
Friday, September 7, 2018 3:59 PM
Meet & Greet Fundraiser for Steve Jarman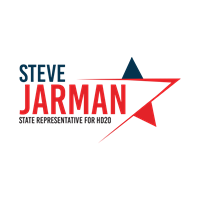 Drs. Kim & Susan Jones, Terri Begley, Lazaro Cardenas, Ronnie & Peggy Patton, Floyd & Mary Johnson, Candace Blalock, Kim & Al Jackson, Susanne & John Blake, Gini Rodke, Martha & Pearce Blake, and Helen & Don Watts cordially invite you to a Meet & Greet Fundraiser for Steve Jarman.
Thursday, September 13, 2018 | 5:00 P.M.
Bob's Pig Shop
929 N. Ash
Pauls Valley, OK 73075
Any and all contributions are appreciated. No minimum donation required.
---
Tuesday, August 7, 2018 3:13 PM
Steve Teaches 12-Year-Old Drake Dixon to SCUBA Dive
Steve Jarman is showing Drake Dixon how to perform a mask removal and replacement.
---
Saturday, July 21, 2018 8:55 PM
Steve Jarman Speaking To OEA's Southwest Leadership Conference
Steve Jarman spoke during the Oklahoma Education Association's Southwest Leadership Conference on July 20, 2018. Other candidates in attendance included Jacobi Crowely (OK Senate District 32), Joan Gabelmann (OK House District 63), and Toni Hasenbeck (OK House District 65). The event took place at the Red River Technology Center in Duncan, Oklahoma.
---
Monday, May 7, 2018 10:16 AM
Steve Drives Black Beauty in the Rose Rock Festival Parade
---
Friday, May 4, 2018 3:40 PM
Jarman, 63, taught math and English in PV for three decades before retiring and just a couple of years ago ran for a seat in the state senate.
Now he is among several filing to run against Bobby Cleveland, the Republican incumbent for the District 20 seat in the state House.
---
Friday, May 4, 2018 3:37 PM
Jarman feels qualified to at least lead this charge as he brings with him a background of trying to get education friendly legislation passed.
He believes America has one of the best frameworks for education in place, but feels it isn't getting the funding and support it needs to thrive.
---
Thursday, April 26, 2018 3:18 PM
Steve Jarman spent more than three decades teaching math here in PV. Now he's spent even more time as a scuba diver as he's now celebrating 20 of those years teaching others to take the dive.